The Renaissance at Lincoln Park – 'community driven development' includes a new 11 story multi-family residential building located on the parking lot of the senior housing building behind the Lincoln Park pool. The building will contain 179 affordable or low income units, incomes of 30-80% of average median income and is considered workforce housing. The unit break out is as follows: 20 studio, 96 1-bed, 63 2-bed.
The developer will demolish the existing Boys & Girls Club and create a state-of-the-art larger facility with 21,750 square feet. The overall project includes a 5 story parking garage with 356 spaces that will service the residents, park visitors and Boys & Girls club visitors.
The project will create 265 temporary construction jobs and 13.5 full time equivalent jobs. The Boys & Girls Club was built in the 1950s, is owned by the City of New Rochelle and was in a state of disrepair. In addition, it was undersized for the current population.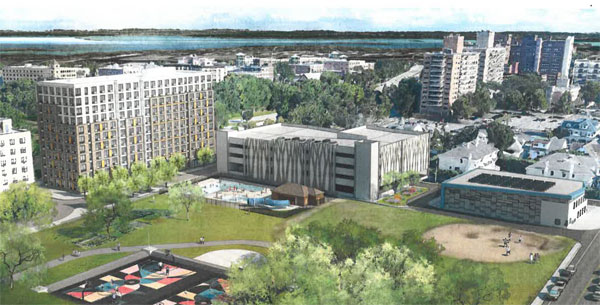 Project Data*
---
Building
Budget: $82,000,000
Studios: 20
1BR: 96
2BR: 63
3BR: 0
4BR:
Affordable: 179
Total: 179
---
Parking: 356
Stories: 11
Retail Space: 0 sqft
Occupancy
Residents: 352
Students: 10
School: Lincoln
---
Jobs
Construction: 265
Permanent FT: 4
Permanent PT: 10
Dates
Status: IDA Approval

---
Planning Board Approval: 1/28/2020
IDA Approval: 9/30/2020
Constr. Start: 11/1/2020
Length: 30
Completion: 5/1/2023
Tax Incentives
"As Is" Tax: $0
Full Property Tax: $25,234,979
PILOT: $21,638,215
Owner Savings: $3,596,764
PILOT (yrs): 30

---
Mortgage Tax Exemption: $460150
Fair Share Mitigation: $
Data Last Updated: 10/10/2020
*Data listed here is subject to change. FOIL/FOIA requests are pending to obtain any missing data. Some of these numbers are estimated. Data comes from city documents.
** GLOSSARY TERMS: "As Is" taxes are the taxes of the property before development. Full Property Taxes are the taxes of the property after development. PILOT means Payment in Lieu of Taxes, which is less than full property taxes. Owner savings is the property tax abatement in dollars and as a percent of Full Property Taxes. PILOT length is the number of years that the PILOT is in effect. Fair Share Mitigation (FSM) fees are monies collected by the City from the developer to cover future infrastructure needs. The school system gets approximately 2/3 of the FSM fees.
*** Residents are calculated as follows: Studios = 1, 1BR = 1.5, 2BR = 3, 3BR = 4.5 (NDC formula) Students are calculated as follows: Studios (*0), 1BR (*0.014), 2BR (*0.141), 3BR (*0.213) (NDC formula)
*Data updating and collection is done by volunteers and may contain the occasional error or miscalculation.
** New Rochelle Parking Code including Minimum number of Spaces
** New Rochelle School District Street Directory (to see what school is assigned to each address in the city)