This is a multi-phase project. Phase 1 was completed in the summer of 2021. It is now the Westchester Family Court. The 5-story base contains parking on floors 1 & 2 (231 spaces), two floors of courthouse space and two buffer floors. The 3rd floor contains 2 court rooms, 3 hearing rooms, judge's chambers with support staff and a terrace. The 4th floor contains support staff and a women's center. The buffer floor(s) were mandated by the city so that the courthouse could operate during the construction of the residential tower.
Phase 2 is in construction now. It is West View Apartments and will be 24 stories and contain 186 affordable units, reserved for families with incomes at or below 60 percent of the area medium income for Westchester County. (34 studios, 96 one-bedroom and 56 two-bedroom units.) The residential tower will include a community room, gym, computer center, laundry facilities and parking for tenants. It is expected to be completed and rented by July 1st, 2025.
Phase 3 will include an additional mixed-use building with its design detail and planned uses still to be determined.
The project was designed by Newman Architects with BE Bronx Builders as the General Contractor. Simone Development / Stagg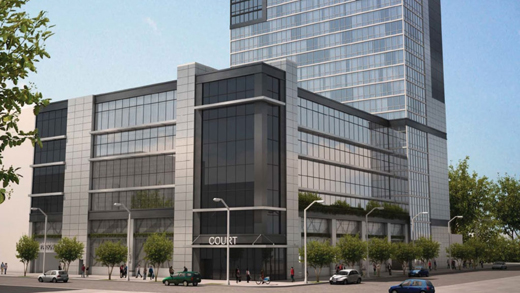 Project Data*
---
Building
Budget: $87,000,000
Studios: 34
1BR: 102
2BR: 50
3BR: 0
4BR: 0
Affordable: 186
Total: 186
---
Parking: 241
Stories: 14
Retail Space: 3000 sqft
Occupancy
Residents: 287
Students: 9
School: Columbus
---
Jobs
Construction: 120
Permanent FT: 37
Permanent PT: 5
Dates
Status: IDA Approval

---
Planning Board Approval: 1/28/2020
IDA Approval: 2/20/2020
Constr. Start: 9/1/2019
Length: 50 months
Completion: 12/1/2023
Tax Incentives
"As Is" Tax: $1,884,942
Full Property Tax: $26,022,861
PILOT: $4,163,658
Owner Savings: $21,859,203
PILOT (yrs): 30

---
Mortgage Tax Exemption: $1700000
Fair Share Mitigation: $
Data Last Updated: 10/10/2020
*Data listed here is subject to change. FOIL/FOIA requests are pending to obtain any missing data. Some of these numbers are estimated. Data comes from city documents.
** GLOSSARY TERMS: "As Is" taxes are the taxes of the property before development. Full Property Taxes are the taxes of the property after development. PILOT means Payment in Lieu of Taxes, which is less than full property taxes. Owner savings is the property tax abatement in dollars and as a percent of Full Property Taxes. PILOT length is the number of years that the PILOT is in effect. Fair Share Mitigation (FSM) fees are monies collected by the City from the developer to cover future infrastructure needs. The school system gets approximately 2/3 of the FSM fees.
*** Residents are calculated as follows: Studios = 1, 1BR = 1.5, 2BR = 3, 3BR = 4.5 (NDC formula) Students are calculated as follows: Studios (*0), 1BR (*0.014), 2BR (*0.141), 3BR (*0.213) (NDC formula)
*Data updating and collection is done by volunteers and may contain the occasional error or miscalculation.
** New Rochelle Parking Code including Minimum number of Spaces
** New Rochelle School District Street Directory (to see what school is assigned to each address in the city)