North Avenue East is located at 583 North Ave., near Fifth Avenue, New Rochelle developer Robert C. Young. The project is "$60 million, five-story, 151,000-square-foot building with 114 apartments, almost 21,000 square feet of retail space and indoor parking ... He says construction will begin by the early fourth quarter and finish in around 20 months. The Sullivan Architectural Group from Fairfield, Connecticut, and VHB Engineering, Surveying and Landscape Architecture, White Plains, are on the project team." Westfair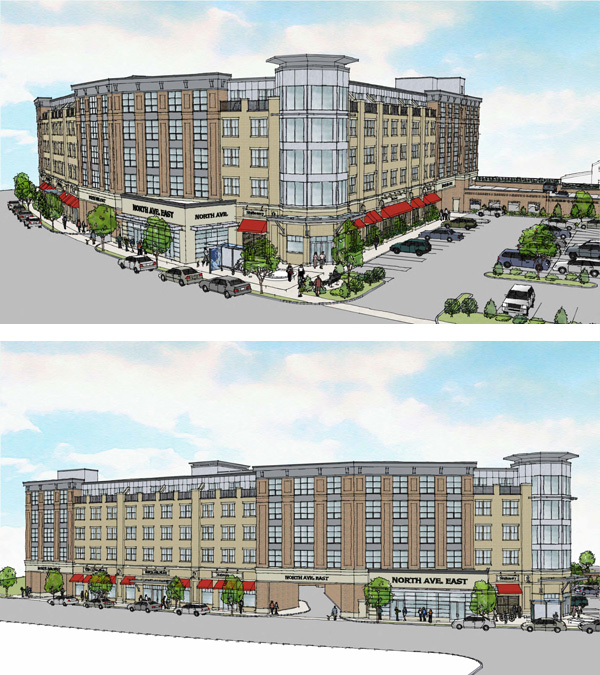 Project Data*
---
Building
Studios: 36
1BR: 99
2BR: 44
3BR: 10
Affordable: 19
Total: 189
---
Parking: 297
Stories: 5
Retail Space: 27997 sqft
Occupancy
Residents: 406
Students: 10
---
School: Ward

Dates
Status:

---
IDA Approved:
Planning Board Approval: 6/27/2017
Constr. Start:
Length: 0 months
Completion:
Financial
Budget: $90,000,000
PILOT: $4,700,000
Sales Tax Exemption: $1,200,000
Mortgage Savings: $395,000
NR Tax Incentive: $6,295,000
Data Last Updated: 9/3/2018
*Data listed here is subject to change. FOIL/FOIA requests are pending to obtain any missing data. Some of these numbers are estimated. Data comes from city documents.